Roof cladding mainly contains Corrugated Metal Sheet (PPGL, PPGI, Al-Mg-Mn Alloy Sheet) and Daylighting Panels (FRP, PC) and Insulation Sandwich Panel (EPS, PU, Rock Wool, Glass Wool).

1. Corrugated Metal Sheet
PPGI is prepainted galvanized steel, which is a product made by chemical treatment of coated steel plate and then coating and baking. It not only has the mechanical strength and easy forming properties of steel plate, but also has good decoration and corrosion resistance of organic materials. The coating has strong adhesion and can maintain the new color for a long time.
PPGL is prepainted galvalume steel, its base steel is galvalumed and has better anti-corrosion performance.
Al-Mg-Mn alloy plate is a very cost-effective roofing material. Aluminum alloy has been widely used in the construction industry, and has played an important role in the development of modern buildings in the direction of comfort, lightness, durability, economy, and environmental protection.
Common corrugated metal sheet types are as follows, other sheet types can be customized as the client required.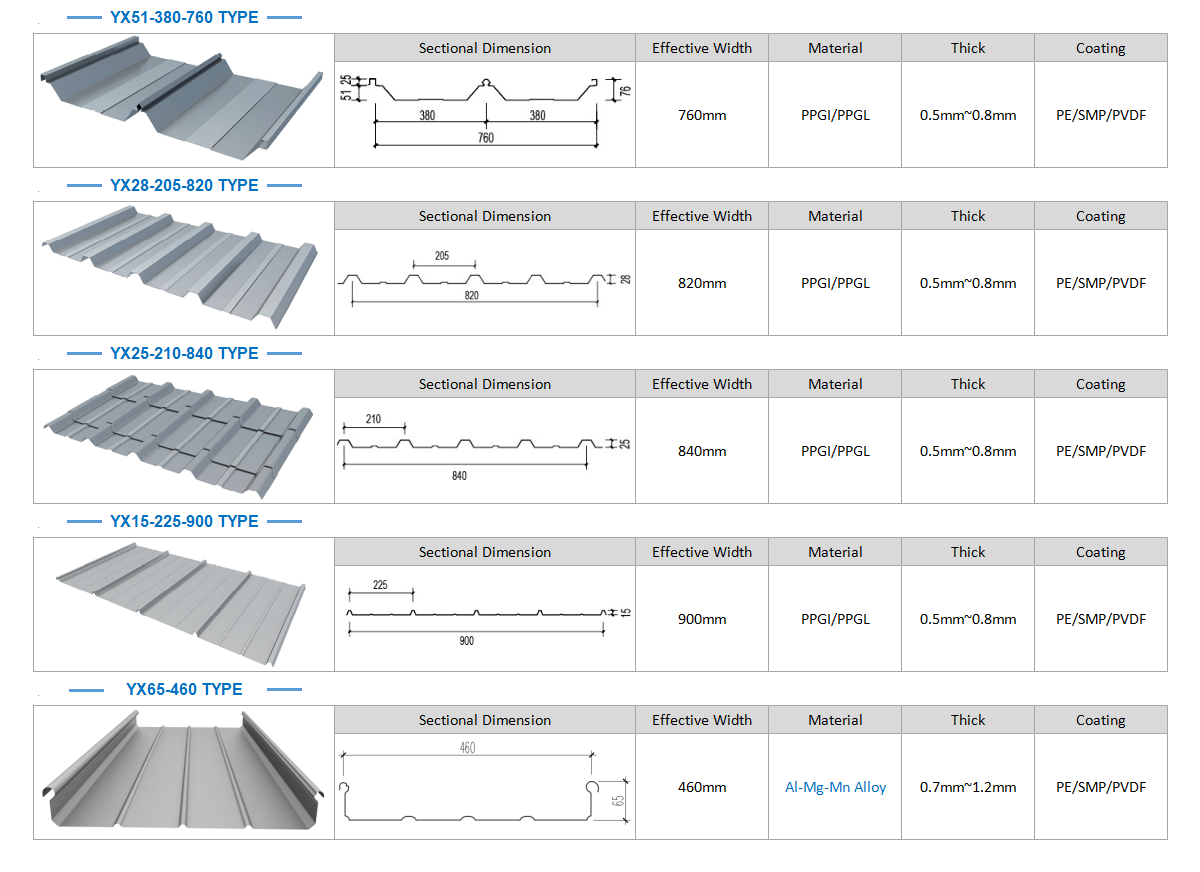 ---
2. Daylighting Panels
PC (Polycarbonate), FRP (Fiber Reinforced Polymer), Tempered Glass are the common materials for daylighting panels. The performance and differences are as follows.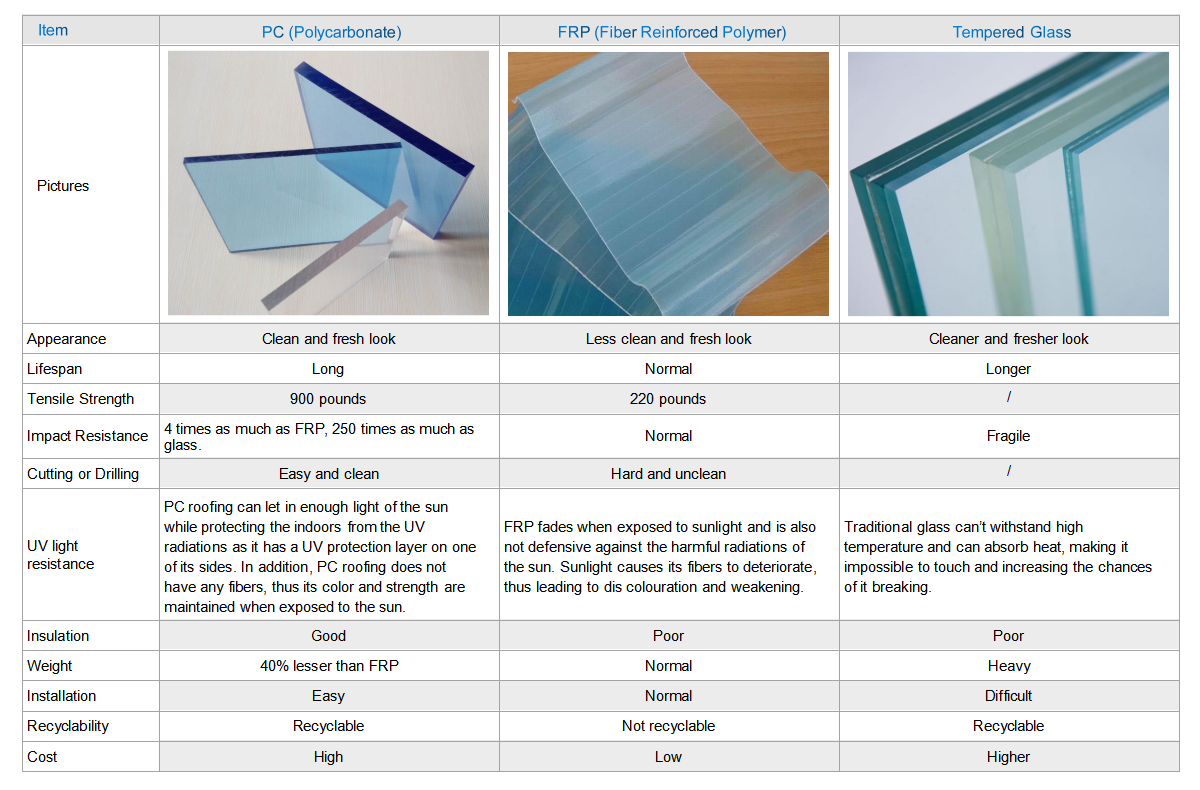 ---
3. Insulation Sandwich Panel
A sandwich panel is any structure made of three layers: a low-density core, and a thin skin-layer bonded to each side. The skin layer material is usually same to corrugated metal sheet, please refer to it. There are many different insulation materials used as the core. EPS, PU, rock wool, glass wool are used upon users' requirements.


| | | | | |
| --- | --- | --- | --- | --- |
| Items | EPS | PU | Rock Wool | Glass Wool |
| Water Proof | ☆☆☆☆☆ | ☆☆☆☆☆ | ☆☆☆ | ☆☆☆ |
| Fire Proof | ☆☆ | ☆☆☆☆ | ☆☆☆☆☆ | ☆☆☆☆☆ |
| Heat Insulation | ☆☆☆ | ☆☆☆☆☆ | ☆☆☆☆ | ☆☆☆☆ |
| Sound Insulation | ☆☆☆☆ | ☆☆☆☆ | ☆☆☆☆ | ☆☆☆☆ |
| Price Comparison | ☆☆ | ☆☆☆☆☆ | ☆☆☆☆ | ☆☆☆ |
| Density Range | 6-20kg/m³ | 35-45kg/m³ | 80-120kg/m³ | 40-80kg/m³ |